2019/20
healing chronicles –––– MA Design, Goldsmiths College

healing chronicles is a 2 in 1 project approaching the issue of mental health and emotional wellness through the meaning of objects and storytelling.
---
︎READ MORE︎ ︎READ MORE︎ ︎READ MORE︎ ︎READ MORE︎
---
Specifically designed from a culturally sensitive perspective,
healing chronicles is composed of two pieces:
A magazine made up of selected stories from

Black Britons living in South London.

A playful toolkit to foster dialogue through creative means between care providers and the general public by developing reciprocal understanding and empathic resonance to support health literacy.
---
CONTEXT
---
My role
End-to-end product design from
research to conception, prototyping
and visualization

Project time
September 2019 (ongoing)

Location
London (UK)

Mental illnesses are spreading at alarming rates in the UK. According to the
2014 Adult Psychiatric Morbidity Survey
, a sixth of the population in England aged 16 to 64 have a mental health problem. Among minorities, Black people are disproportionately impacted: African-Caribbean people living in the UK are more likely to be diagnosed with severe mental illnesses than any other ethnicity.
Through this design project and writing autoethnography, I intended to raise questions about how to challenge current narratives on mental and emotional health that particularly affect the Black British community/ies from the inside out.

healing chronicles research methods were used during #Hackthehospitalday, a full-day workshop commissioned by the Sandwell and West Birmingham Hospitals NHS Trust in December 2019.
---
PROCESS
---
Preliminary directions
This research study stands at the core of my personal fields of interest in relation to my design practice. It prompted me to work on emotional wellness within the Black populations living in the UK, and ask myself the following questions:
How to design ways to talk about mental health within the Black British community/ies?




How to position myself as a designer when engaging with a community I self-identify with?




How to manage power relations? What are the implications and limitations?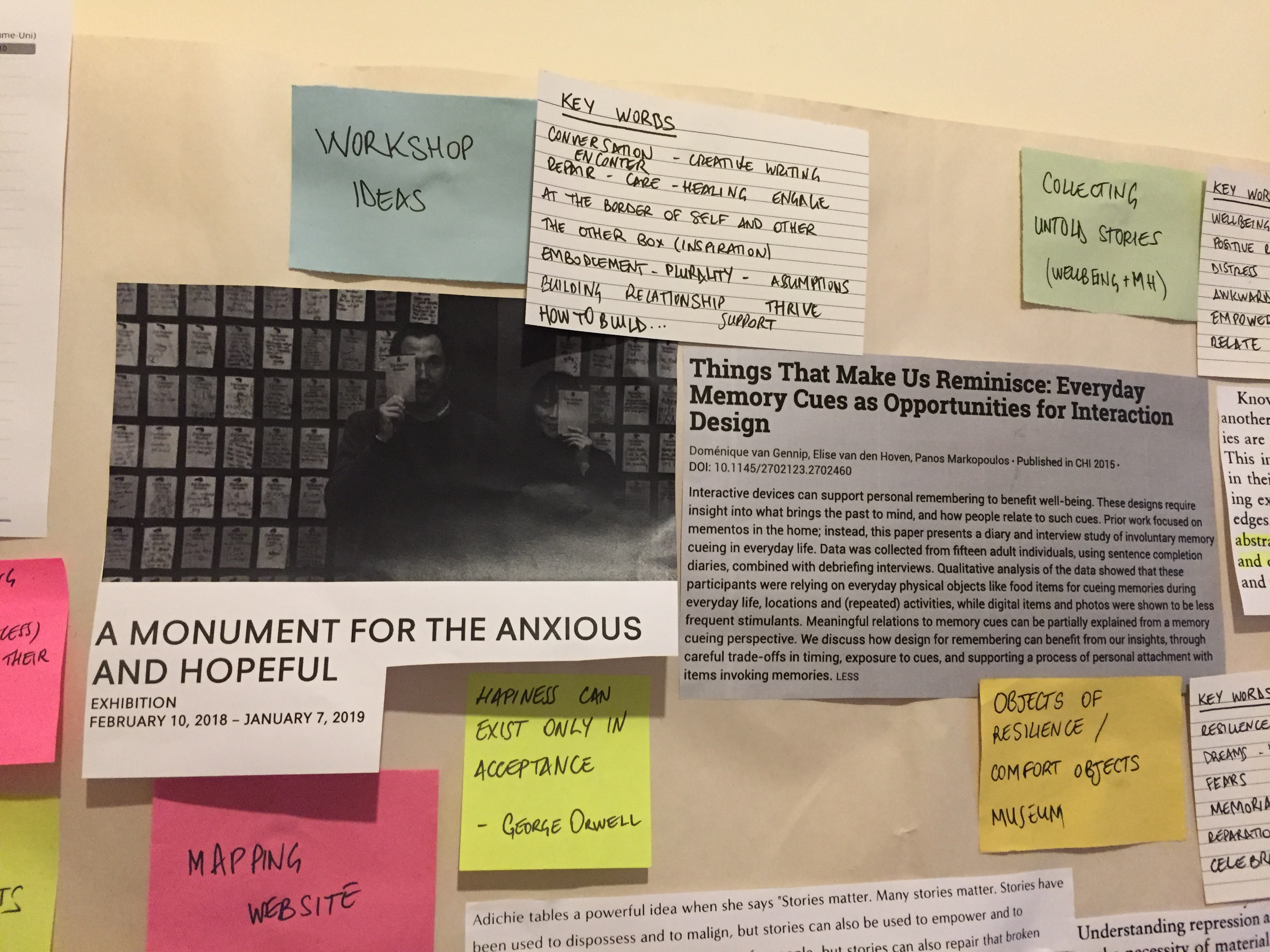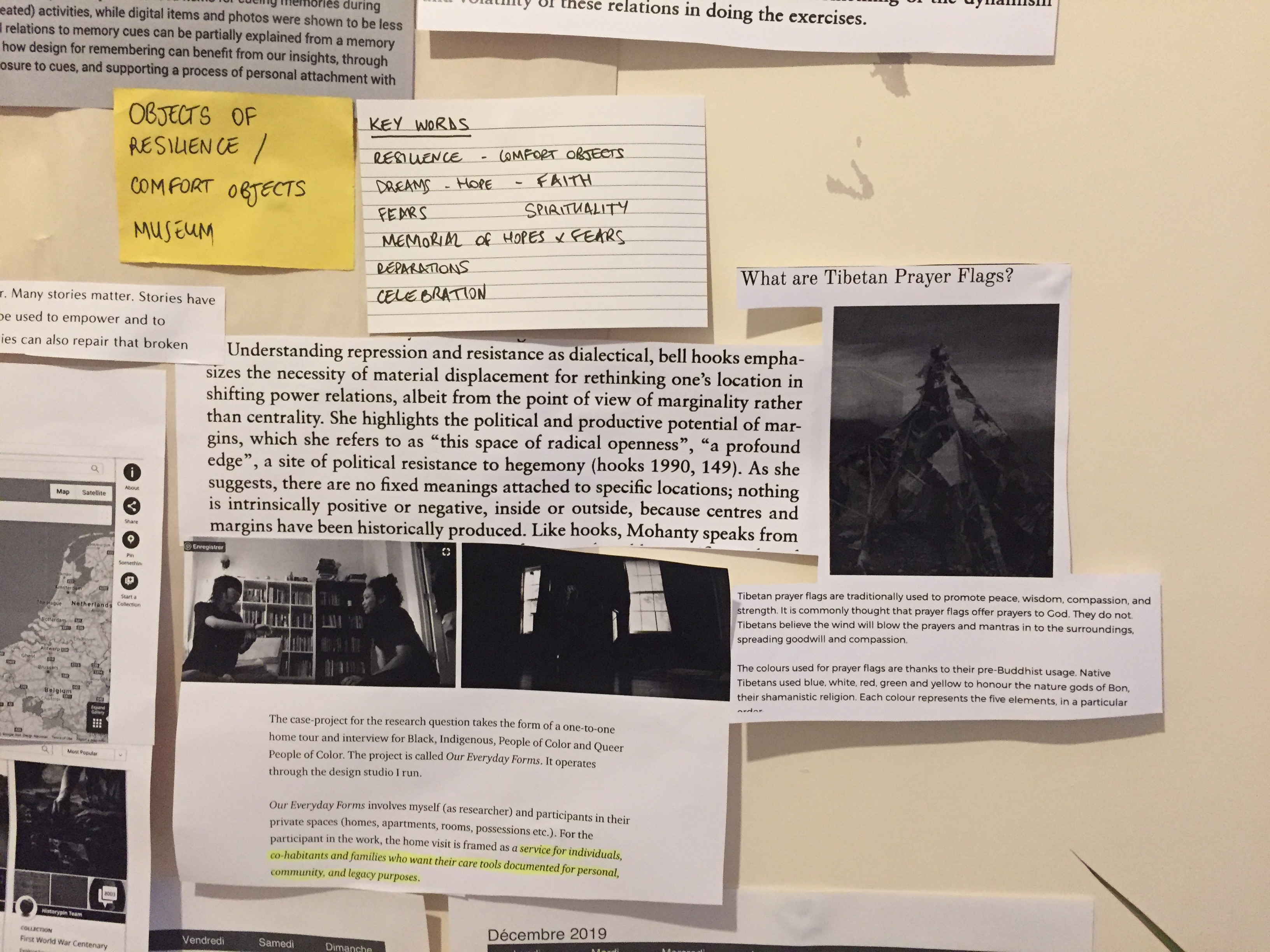 Brainstorming wall
Reclaiming Black British narratives
Legacies of marginalization, displacement, discrimination, media representation, etc. are non-exhausted systemic oppressions that have direct impacts on mental health and well-being. Passed down from generation to generation, those specific traumas are hardly ever treated.

From this point, I started to experiment with the potentialities of storytelling as a tool for collective healing. What if we freed ourselves from the roles that were assigned to us? Or that we set to ourselves? How can we shift from trauma-related narratives to powerful stories? (Ginwright, 2018)
Untitled - Black Panther movement march.
London, 1971 © Neil Kenlock
A conversation through objects of resilience (ACTOOR)
After deeper research on the topic, inspired by the work of American designer
Myriam D. Diatta
, I organized and conducted ACTOOR: an afternoon workshop bringing together Black British people to reflect upon ways to approach resilience and reparations within the community.
The workshop took place in October 2019 at Goldsmiths College. I asked participants — 9 in total including myself — to bring any personal possession that tells a story of how they cope with the experience of displacement marginalization, otherization or any form of distress.
The first part of the session was dedicated to sharing stories through the objects. Later on, the participants were asked to materialize conceptual ideas and key notions that had been exchanged beforehand through a collective building activity.
"I really liked coming together
with people from different ages, genders, life experiences,
country of origins.
This experience was healing
for me and I thoroughly enjoyed it."
ACTOOR participant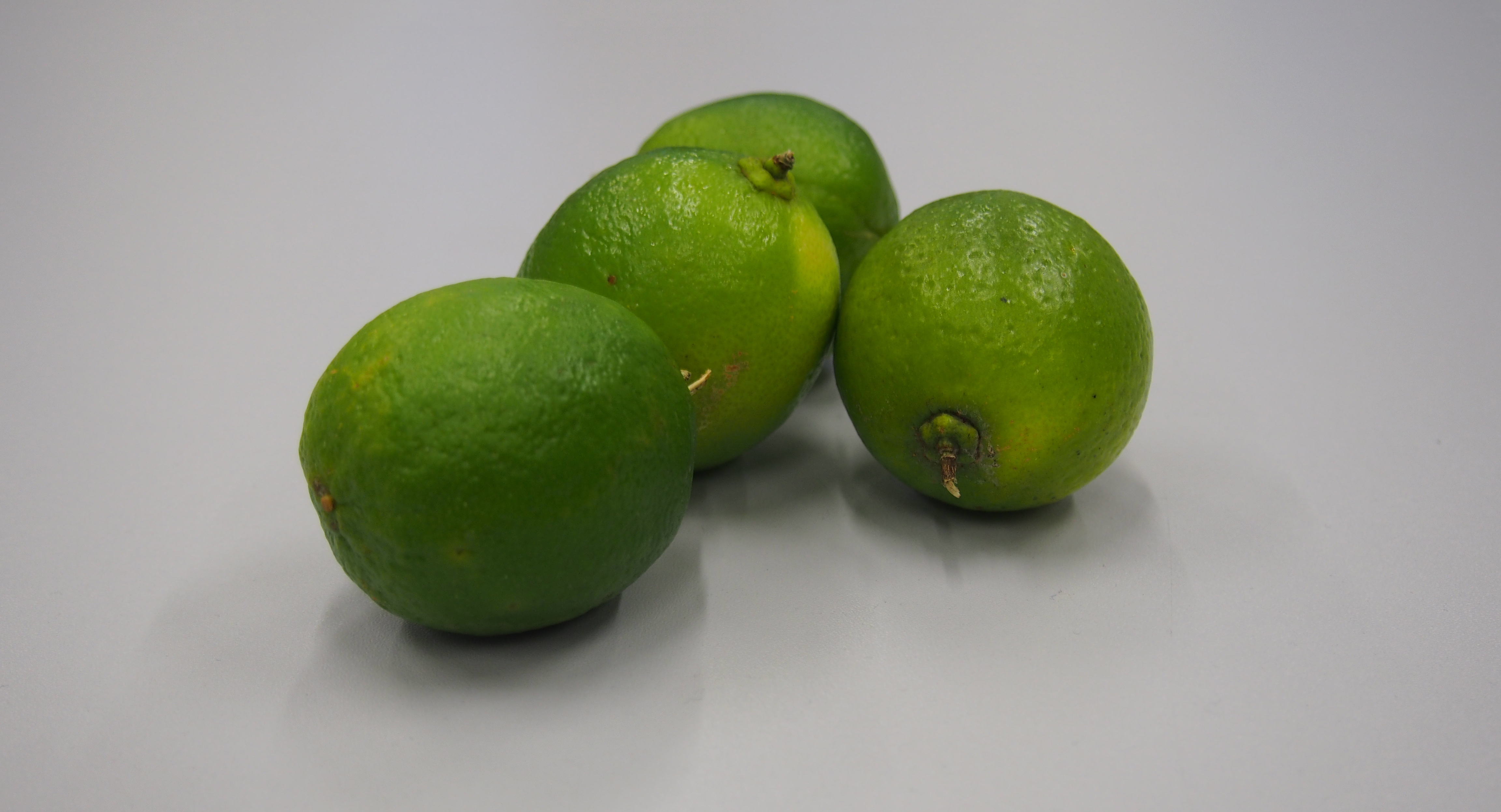 "Great opportunity to
deeply listen and hear the
intricacies of everyone experiences."
ACTOOR participant
"I would love to have this safe space again.
It helped me feel comfortable to express things
like my struggles as a young black female."
'SHARE': this key notion was thought about building a resilient system. A table-like shape that stands in the middle of a rectangular frame. The table is surrounded by multiple colored beads representing the plurality of members within a united community. This composition symbolizes the importance of shared moments where everyone has a seat around the table.
---
PRODUCT OUTCOME
---
Toolkit
This playful toolkit is a handmade box, containing two activities:


Show, Hide & Tell: players have to bring a personal object related to challenging life experience.

Once all objects are collected, the participants have to guess the owner of each object, then reveal their own object and share their stories.
Build Café: participants have to collectively materialize key concepts and ideas with selected materials. The shapes created are based on stories and conversations shared during the previous activity.
#Hackthehospital — a full-day design workshop led by Daniel Blyden (Spaghetti) in December 2019 at Sandwell General Hospital (Birmingham).
With the participation of selected hospital staff members, we envisaged ways to create spaces that invite the hospital community to learn from and get involved in health R&D. The Build Café activity was later on introduced to local school children.


Mag-box
The magazine is a result of a collective endeavor. It gathers a series of empowering and healing narratives from Black Britons, an anthology of untold stories that take shape in a singular way.

The project stands as an ongoing conversation meant to be extended and perpetuated outside the box. It interrogates ways of building an archive of feeling (Ann Cvetkovich, 2003) and possibilities to nurture our own legacy.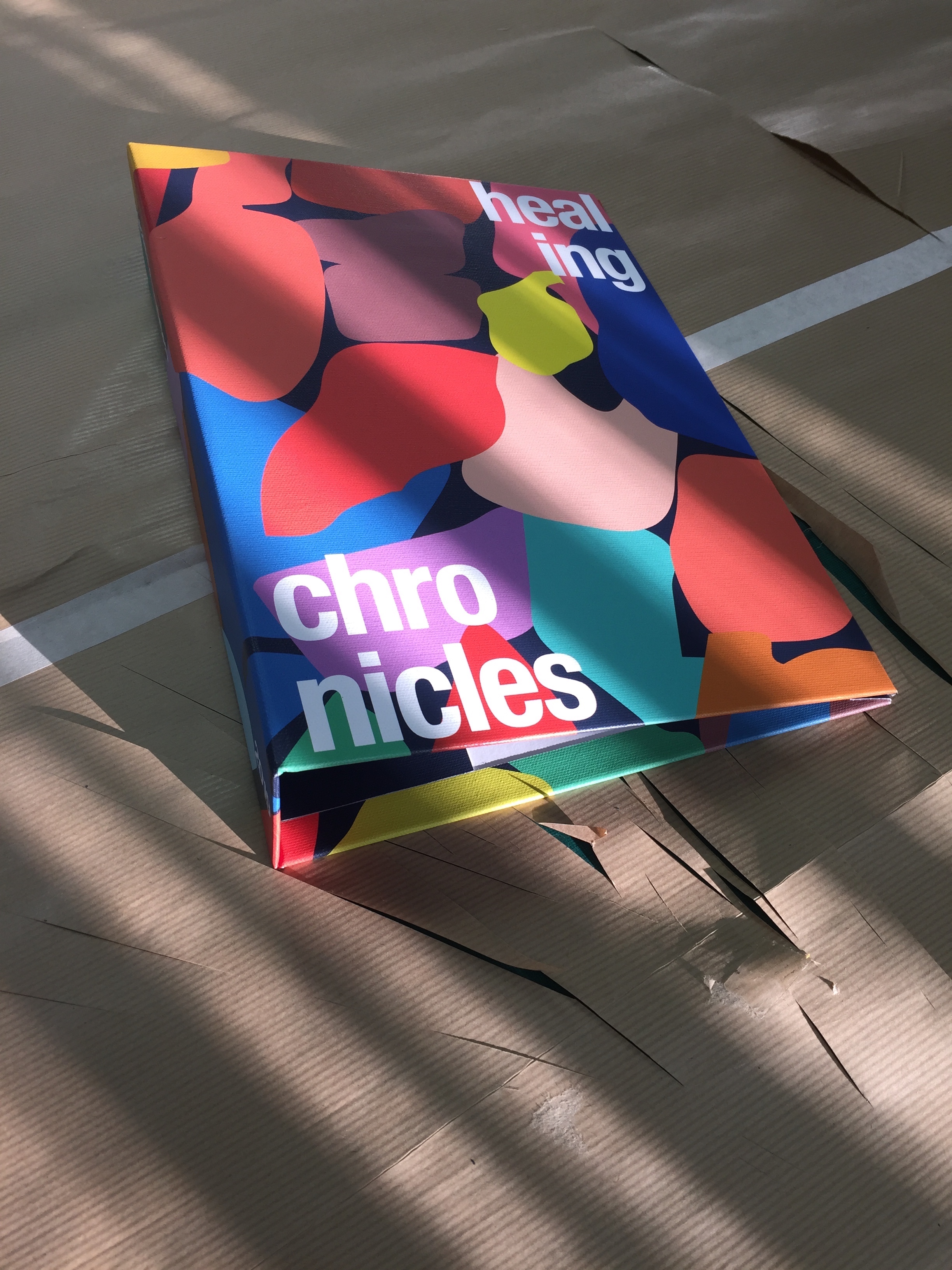 KEY LEARNINGS
---
healing chronicles is an ongoing self-led project that is deeply meaningful to me as it empowers me.
What I've learned about this experience is:


Learning the realities and complexities of community engagement as a designer — establishing trust, setting boundaries, dealing with the responsibilities of 'speaking for' the others, being aware of the power dynamic, etc.



Being accountable for the ethics that comes along when dealing with "unsolicited" research.
Paying attention to the value produced in co-design and participatory practices: value to whom? to what end? (Shana Agid, Elizabeth Chin, 2019).


Making tangible products (Toolkit and Mag-box) — prototyping using suitable materials, paying attention to costs and resource limitations.